Disaster recovery offsite backup
A range of Offsite Backup solutions are
offered by many vendors and almost every ISP these days. There are a set of technologies however which focus not on backup but on recovery.
Much of Central Data Systems consulting services are geared around ensuring a system can be rebuilt from bare metal and become operational within 90 minutes.
The QV.1 data centre provides several technologies for automating Offsite Backups with complete visibility of versions. You could for example have 365 backup versions spanning the last year and have click-and-drag recovery instead of having to use cumbersome outdated tape technology. Tape drives simply can't backup the volume of system changes taking place on larger systems.
Recover from backups and rebuilding a server from scratch can take up to 2 days or longer. With a bit of planning and the right use of utilities, this can be collapsed to 90 minutes or less.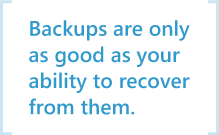 Disaster Recovery Plans (DRP)
DRP normally considers a much broader set of potential risks and documents the resolution procedures. In the event of a predictable disaster its extremely helpful to have a tried and tested tick list and known timeframe. Today systems are so complex and with so many related dependencies that its often not enough just to restore a database or a server because of these dependencies.
Our consultants have experience implementing DRP solutions for both small and large business. Please contact us to discuss your current exposure and allow us to show you our methodology for building a certifiable DRP.
Secured access to my Data.
Everything is encrypted to a level equivalent to most banks. Customer Data can be easily replicated back to an office server or another data centre. Application Software typically selected can be implemented on local machines as a fallback measure.
There are options available starting with simple cloud solutions. With the range of technologies the best solutions are often gradual migration with clear back-out plans. Moving to the cloud isn't difficult but it does need to be planned. Speak with one of our consultants and let us tailor a solution and cost out the options for you.
Contact us for more information today!