Our network specialists can provide
a whole range of technical support services from IT Audit and Planning through to recovering corrupted systems and fixing server and routing issues.
The engineering team includes 1st level (PC/Server support), 2nd level (expert) and 3rd level (guru) technical specialists. Whether you choose to use us as your outsourced IT department or simply use us to extend of your existing IT department, we are guaranteed to have the manpower and bread of skills to support any Microsoft or Linux network.
If you are rolling out a new network, have a corrupted file system system, or simply needs a support technician, we can provide total cover for everything in IT. Please contact us to discuss your particular requirements.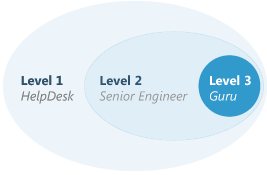 The Central Data Advantage
Contact us for more information today!